Are you looking for a way to connect a contact form with uploads to Google Drive? If you're managing a small business online, there are situations where users might want to send you files through your website's contact form. And you might want to automatically save them to Google Drive.
So in this post, we'll show you how to add a file upload feature to your contact forms, and also have those files automatically uploaded to your Google Drive.
Why Create a Google Drive Upload Form?
Before we get to the fun part of this guide, let's figure out why you should use a file upload form on your website.
Having a contact form with a file upload feature will make that process much easier for both you and your users. But, why connect it to Google Drive?
Normally, when a user uploads a file from a contact form it will get uploaded to your website's server. So, for some reason, if your server files get corrupted or inaccessible, all those uploaded files will also disappear along with them. Not to mention that when lots of users start uploading files to your server, it will also take up your hosting space as well.
However, when you connect Google Drive with your contact form, it will also send a copy of those uploaded files to your Google Drive. That way, you will have copies of those uploaded files on both your server and on Google Drive. It will make things much easier for you to manage those files and you can even delete those files on your server to free up space.
How to Send WordPress Uploads to Google Drive
Here's exactly how to create a WordPress upload form that send data to Google Drive, automatically.
Create The File Upload Form
Without further ado, let's get started and create this awesome Google Drive upload form on your WordPress blog.
Creating the upload form is easy. If you prefer instructions in video format, watch the video above. Or, reading this guide for a more detailed step-by-step tutorial.
How To Integrate Google Drive Uploads
Now that we've created a gorgeous contact form with an upload feature, let's see how we can connect Google Drive with this upload form so that a copy of the files uploaded via the form gets automatically sent to your cloud storage.
Note: This guide will only show you how to save your upload form file attachments into a Google Drive folder. If you also want to save your contact form entries such as the name, email, and message, check out our guide on learning how to connect a contact form with Google Sheets.
Step 1: Install the Zapier Addon
In order to connect Google Drive with WPForms, you'll need the Zapier addon and a Zapier account.
Go to WPForms » Addons. Scroll all the way down to find the Zapier addon. Then click Install and activate the addon.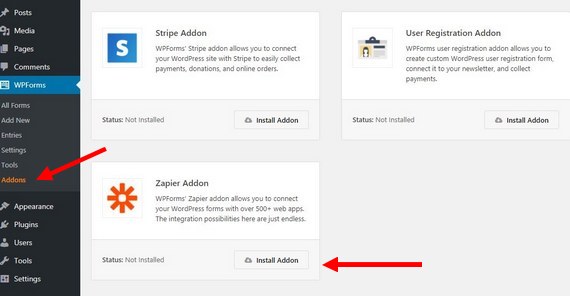 Step 2: Integrate Zapier With WPForms
Go to WPForms » Settings » Integrations and copy your WPForms Zapier API key. You will need this to connect your Zapier account with WPForms.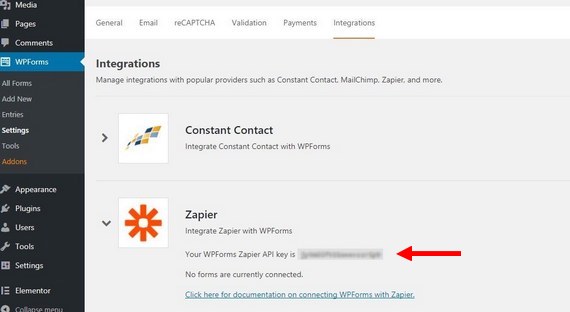 Step 3: Log in to your Zapier account.
Now, log in to your Zapier account. If you don't have a Zapier account you can register an account for free. And click on Make A Zap button.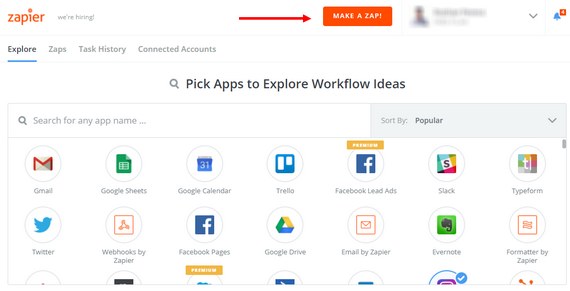 Step 4: Find the WPForms App
Search for WPForms and select it as the trigger app.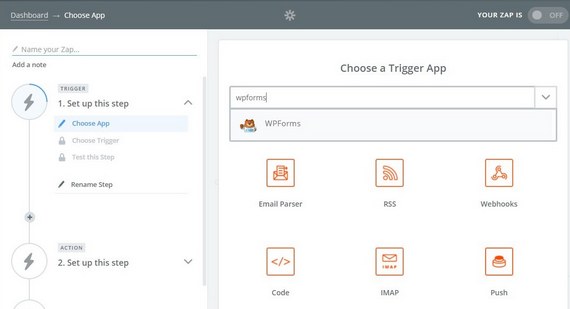 Step 5: Select the New Form Entry
Choose New Form Entry as the trigger and Save.
Step 6: Connect the Zapier and WPForms Account Zaps
Now, click on Connect An Account as this will open a new window. Enter your website address and the WPForms Zapier API key here. Then click Save and Continue when prompted.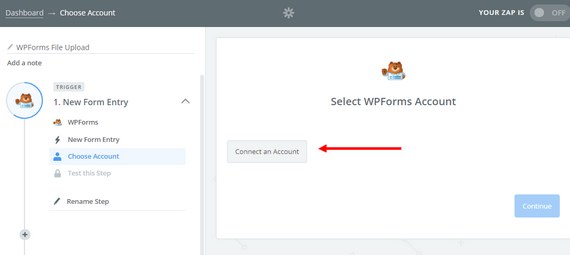 Step 7: Select Your Form
In the next step, select your upload form from the list of forms you've created. And click Continue.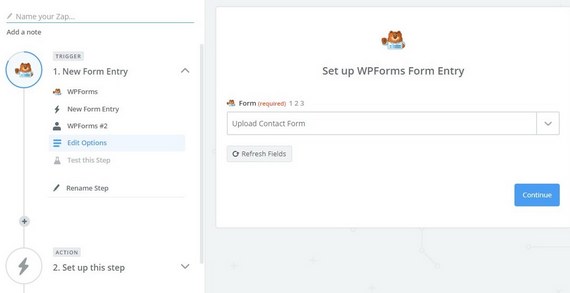 Step 8: Test Your Zap
Now, Zapier will ask to test your form. Before doing that, you need to enter a test entry onto your form. Go to your WordPress Dashboard » WPForms » All Forms and click Preview to show your form and submit a test entry.
Make sure to add a sample file attachment in this test message.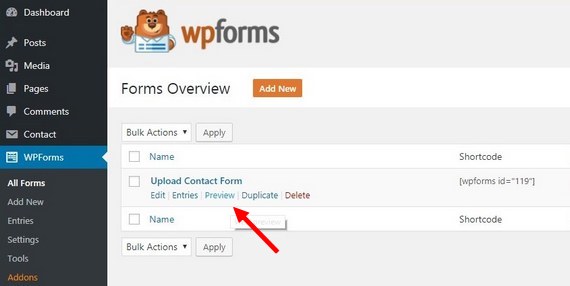 Step 9: Fetch and Continue
After completing the test, go back to your Zapier account and click Fetch and Continue button to test the trigger you've just created. After the successful test, click Continue.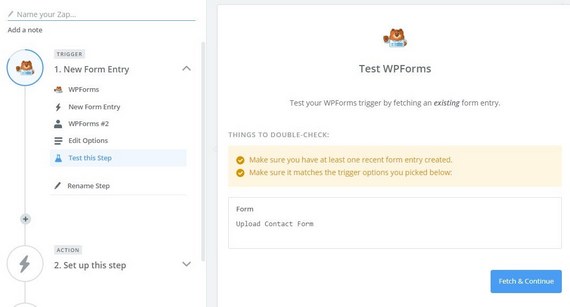 Now you can create an action for the Zapier trigger you've just created. Here's how it's done.
Step 1: Find the Google Drive App
In the list of Action Apps, search and find Google Drive.
Step 2: Select the Action
Choose Upload File as the Action. Then click Save and Continue.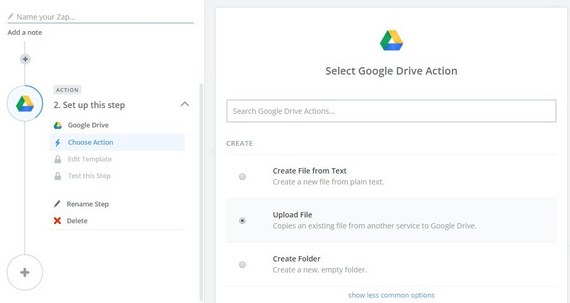 Step 3: Connect the Accounts
Now you need to connect your Google Account with Zapier. Click on Connect an Account and login to your Google Account. When prompted, Allow Zapier to access your Google Drive.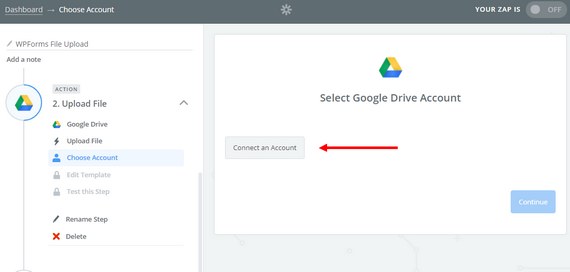 Step 4: Choose Your Google Drive Folder
In the Setup Template section, choose your default Google Drive and a folder to save your uploaded files. It's best to create a new folder to save your contact form uploads for easier management.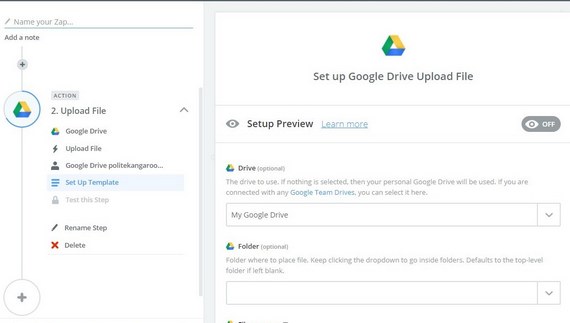 Step 5: Choose the File
In the File option, choose File Upload which contains the file you've uploaded in the contact form test entry.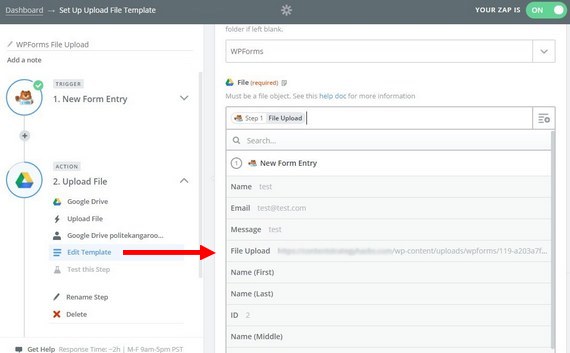 Step 6: Customize Options
You can leave the rest of the options blank. But, you can customize them if you like to automatically convert your uploaded files to Google Drive file formats or change the names. Once you're done, click Continue.
Step 7: Test Upload Form
In the next step, Zapier will test your upload form. Click Send Test To Google Drive. Go to your Google Drive folder and see if you see a copy of the file you attached in your test form entry.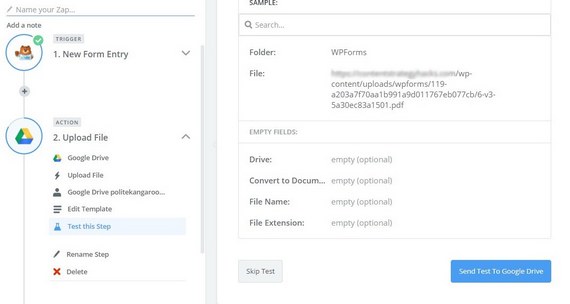 Step 8: Confirm Integration
If you see a file in your Google Drive, then your Zapier integration is successful. You can go ahead and click Finish to complete the Zap.
Step 9: Turn On Zap
Give your Zap a name and Turn it On.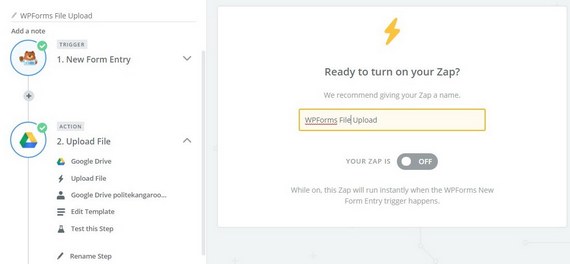 That's it! If you want, you can do another test form submission to see if it works.
Embed The Upload Form
Now, let's see how to embed the upload form on your website.
Go to WPForms » All Forms. Find the upload form you've created and copy its Shortcode. Then you can paste this code onto a page, a post, or anywhere on your website to make the form appear.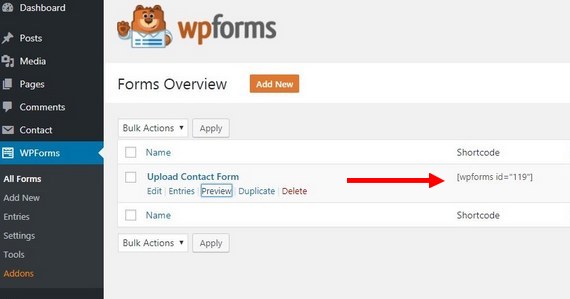 Keep in mind that this method only sends a copy of the uploaded file to your Google Drive. The original file will get stored on your server.
WordPress might also restrict some types of file uploads. You can fix that by following this guide on allowing additional file types.
Now your users can send you any kind of a file from your contact form.
In Conclusion
There you go! You know now who to send WordPress uploads to Google Drive.
And if you think the idea of doing all this stuff with your forms automatically is cool, you'll definitely want to check out this post on the best marketing automation software for your small business.
If you like this article, then please follow us on Facebook and Twitter for more free WordPress tutorials.