Do you want to add a login form to any page on your WordPress site?
Login and registration forms are super simple to make, and adding them to multiple pages on your website can help people find them and log in more easily.
So with that said, this guide will walk you through how to display WordPress login and registration forms on any page.
How to Create Login and Registration Forms on Any WordPress Page
Wondering how do I add a login page to my WordPress site? Well, in order to publish WordPress forms on any page, you'll need to create your own custom login or registration form first. Here's how that's done.
Step 1: Install the WPForms Plugin
The first thing you'll need to do is install and activate the WPForms plugin.
It's pretty straightforward to do, and you can see this step-by-step guide on how to install a plugin in WordPress for a walkthrough.
Step 2: Activate the User Registration Addon
Once you've installed the plugin, next you'll need to install the WPForms User Registration addon.
Navigate to WPForms » Addons and Activate the User Registration addon.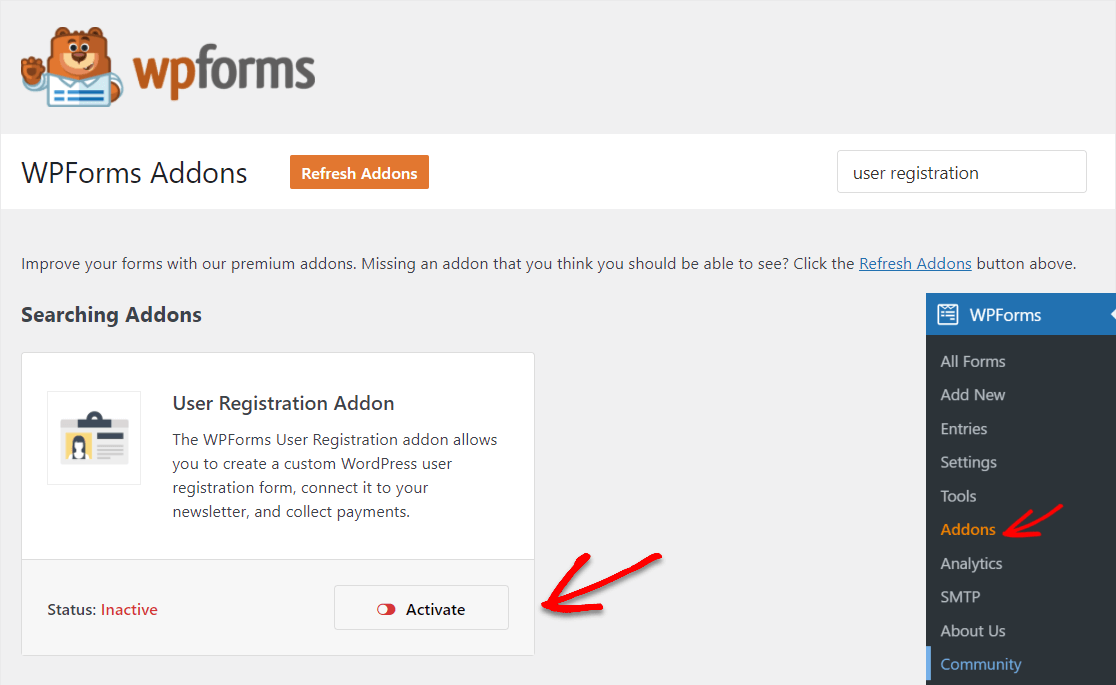 Step 3: Load the Login/Registration Form Template
After you activate the addon, simply click on New Form and select the User Registration form or User Login form template, depending on which one you want to use.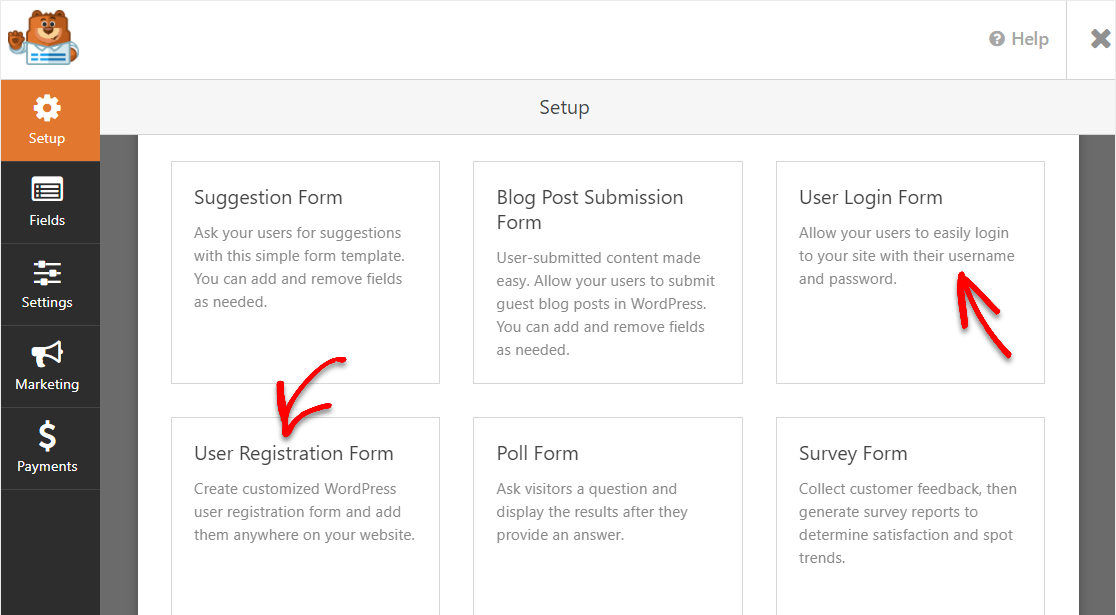 Once it loads, you can easily customize your form using the drag-and-drop builder and add or remove any fields based on your website's needs.
You can even:
Read how to create a registration form in WordPress for detailed written instructions.
As we mentioned, you can create a login form using the drag and drop form builder. Read how to create a custom login form in WordPress. This tutorial will work for either form.
Step 4: Display Login and Registration Forms on Any Page
With WPForms, it's super easy to embed your login form on your site. In fact, you can do it on nearly any WordPress page on your website.
WPForms makes it easy to display your forms on any post, page, and even in a sidebar widget.
Let's take a look at how to add your user registration form to any WordPress page.
So once your form looks the way you want it, click save and then click on the Embed button in the top right corner.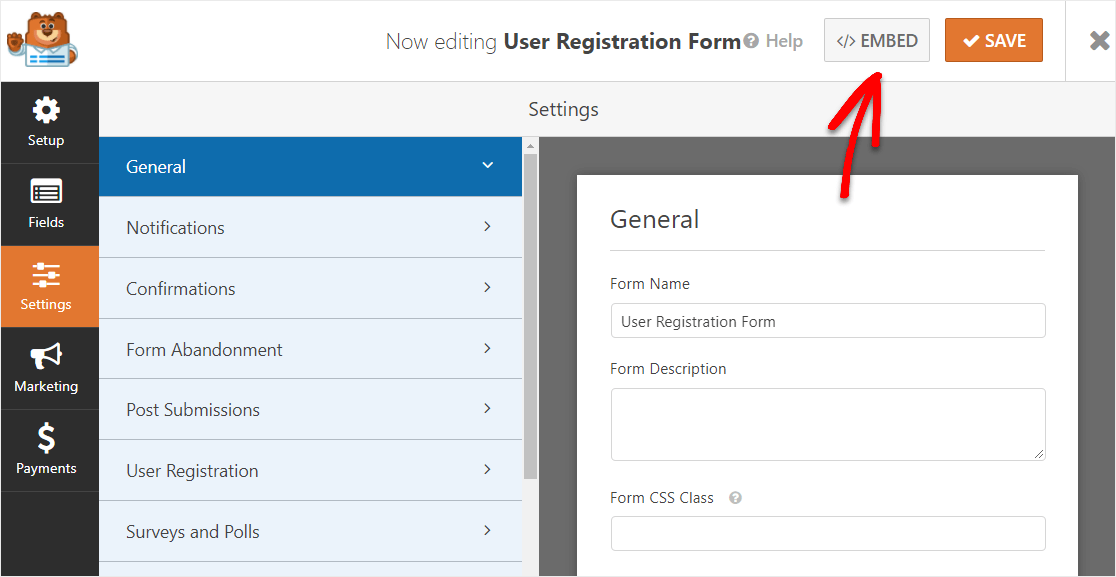 Here, you can select any WordPress page you like, be it an existing page or a new page.
For this example, we'll click on Create New Page.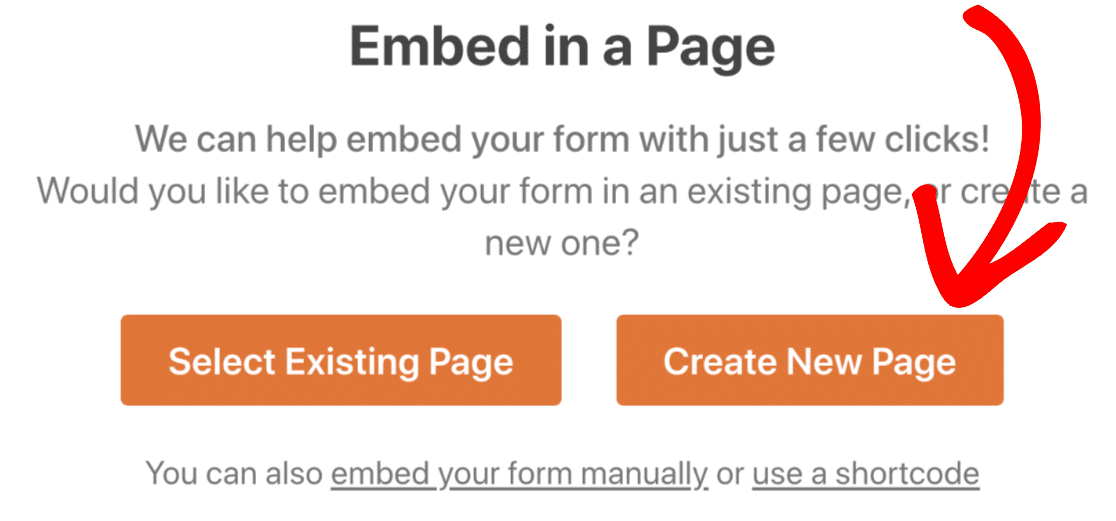 Name your page whatever you'd like to call it and click on Let's Go!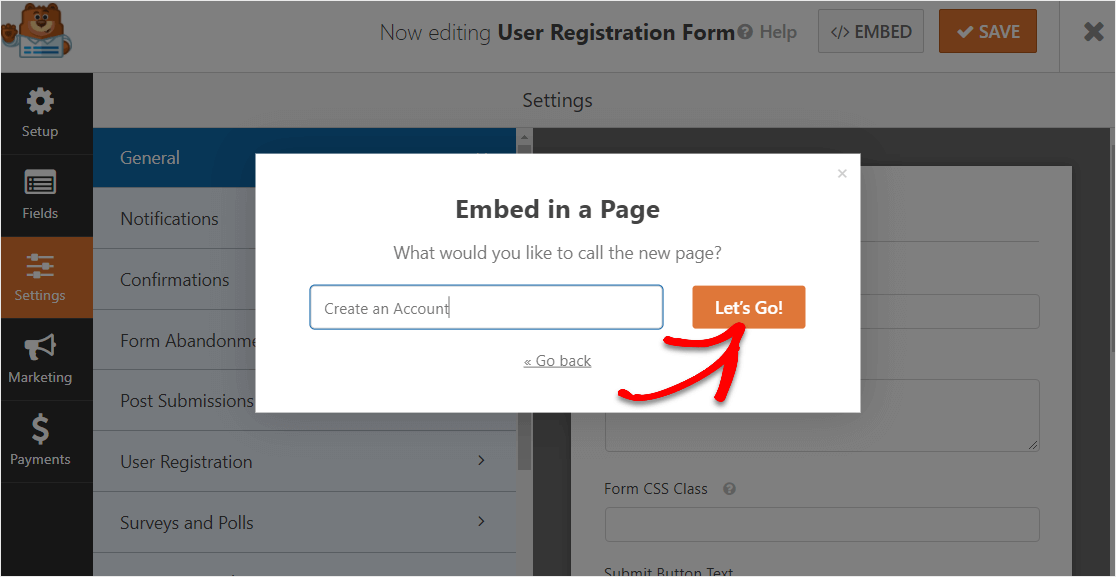 Now, this will automatically add your form to your new page in WordPress. You can do this with literally any page you'd like on your website.
Make sure to hit 'Publish' (or update, if using an existing page) to let your form go live on the internet.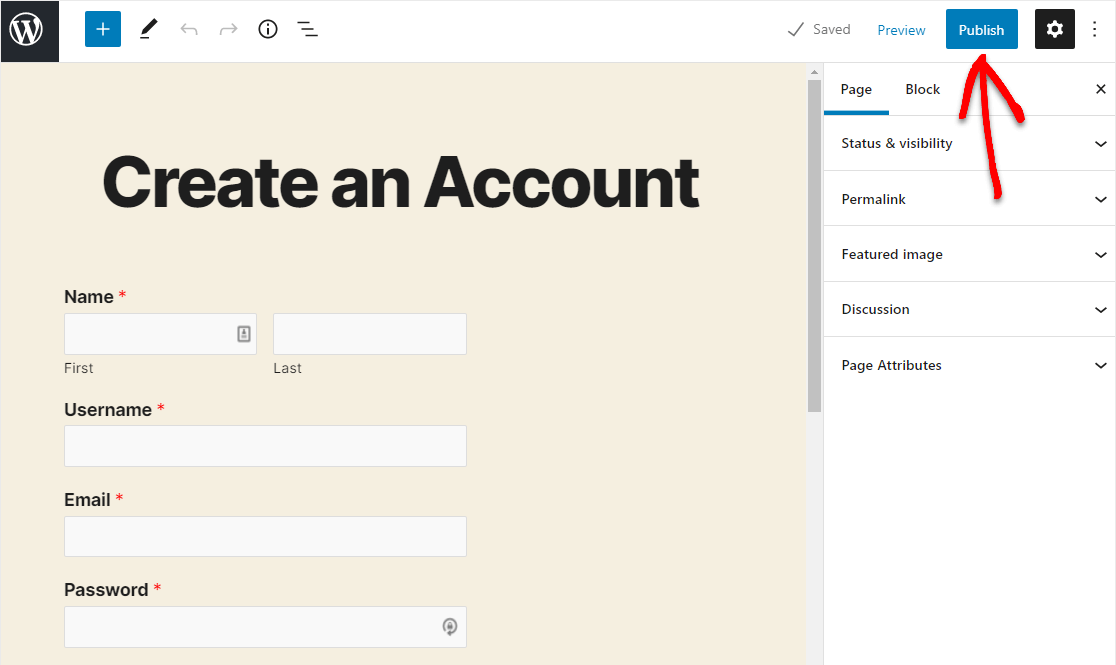 Congrats – you now know how to easily add a user login or registration form to any of your WordPress pages. Here's how it will look: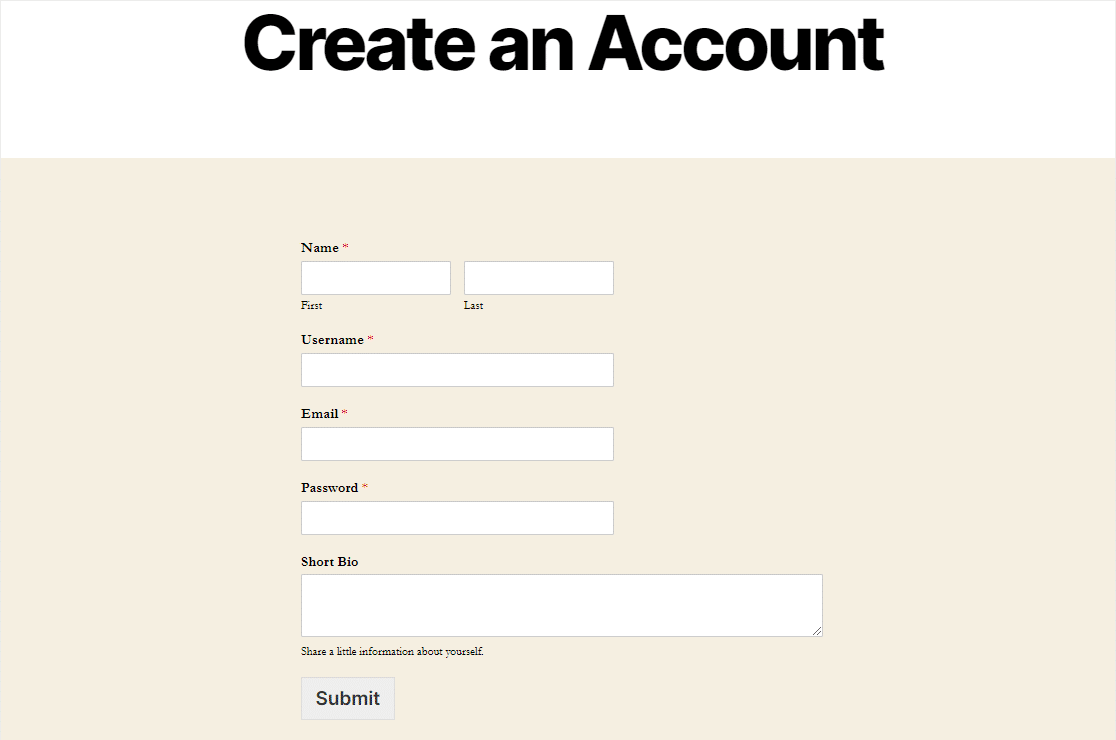 Step 5: Add Form in a Sidebar or Footer (Optional)
Ok, so what if you want your login form displayed on every page or post?
Well, WPForms comes with a widget that allows you to easily add your forms to your sidebar and footer. All you need to do is to add the WPForms widget to WordPress and select the form you want to be shown.
First, head to your WordPress dashboard and navigate to Appearance » Widgets.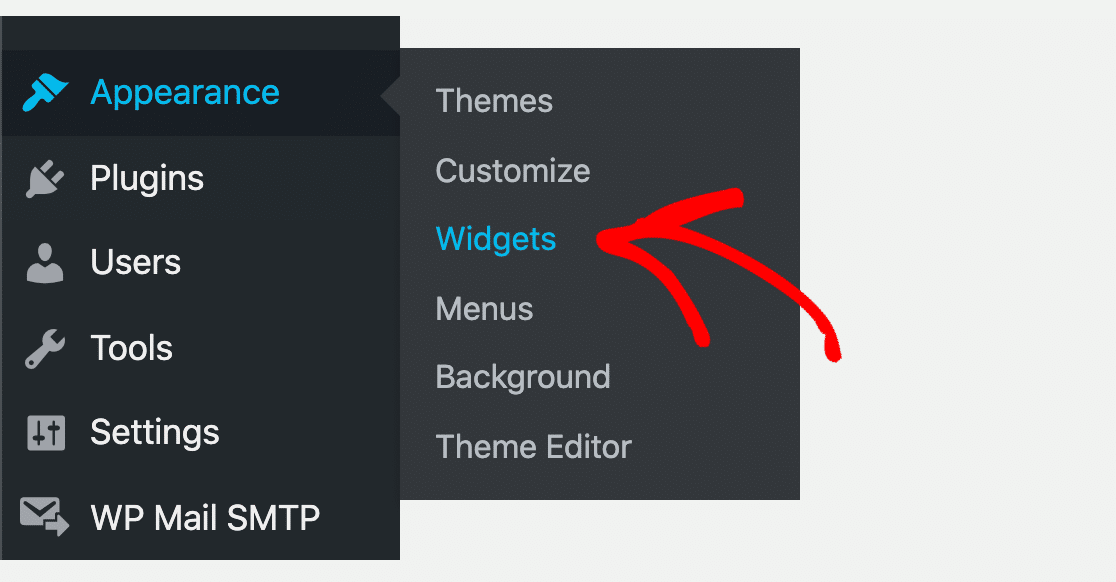 On the Widgets page, scroll down until you see the WPForms widget. Once you click it, you'll see all of the available widget areas that your WordPress theme offers.
In this example, we've selected Main Sidebar to add the user registration form to our WordPress sidebar. But, depending on the way your theme is set up, your sidebar might have a different name.
Next, go ahead and click Add Widget to add the form to your sidebar.
Let's name it and select the form we want to show here from the dropdown.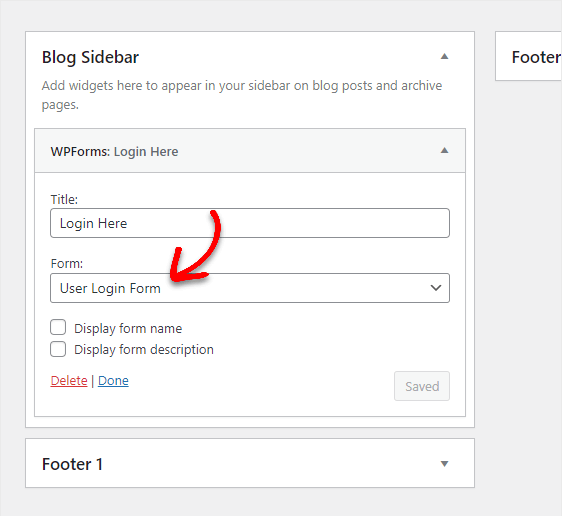 When you click Save, your contact form sidebar widget will be live on your website and ready for your visitors to fill out.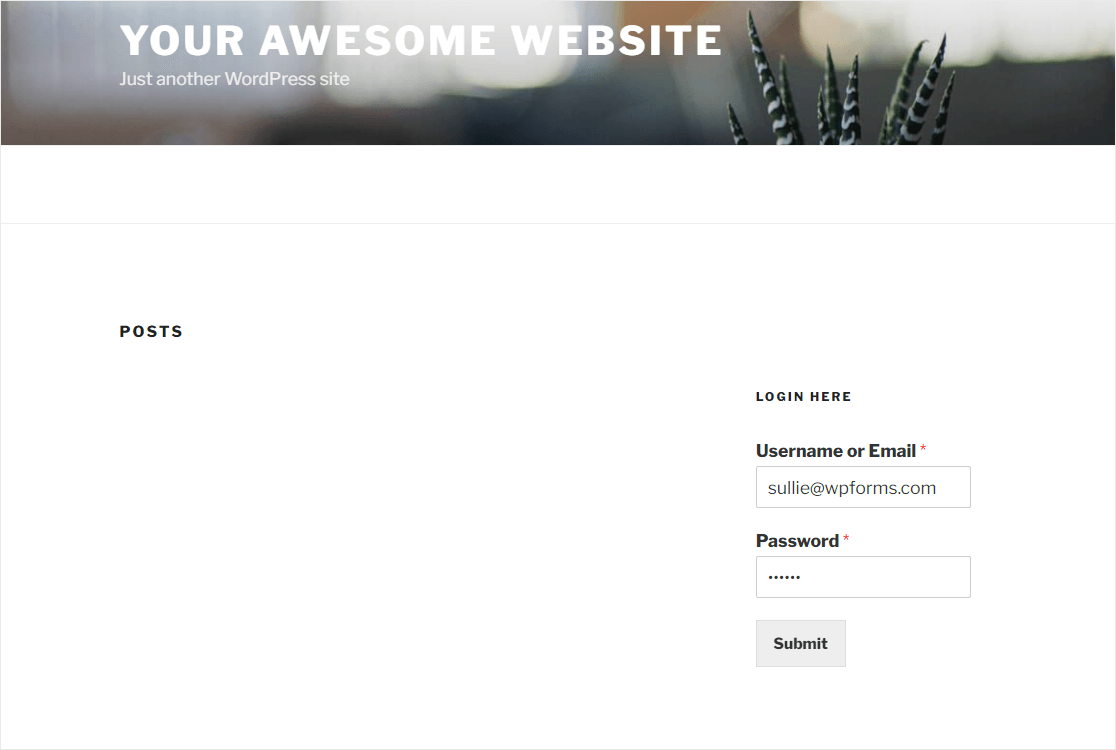 This is also the same area you can go to in order to add a user login or registration form to a footer and show it on any WordPress page.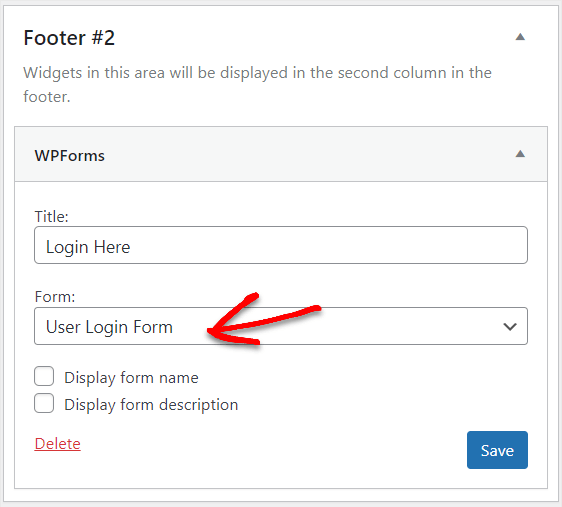 This will end up showing on the bottom of every WordPress page you have with a footer.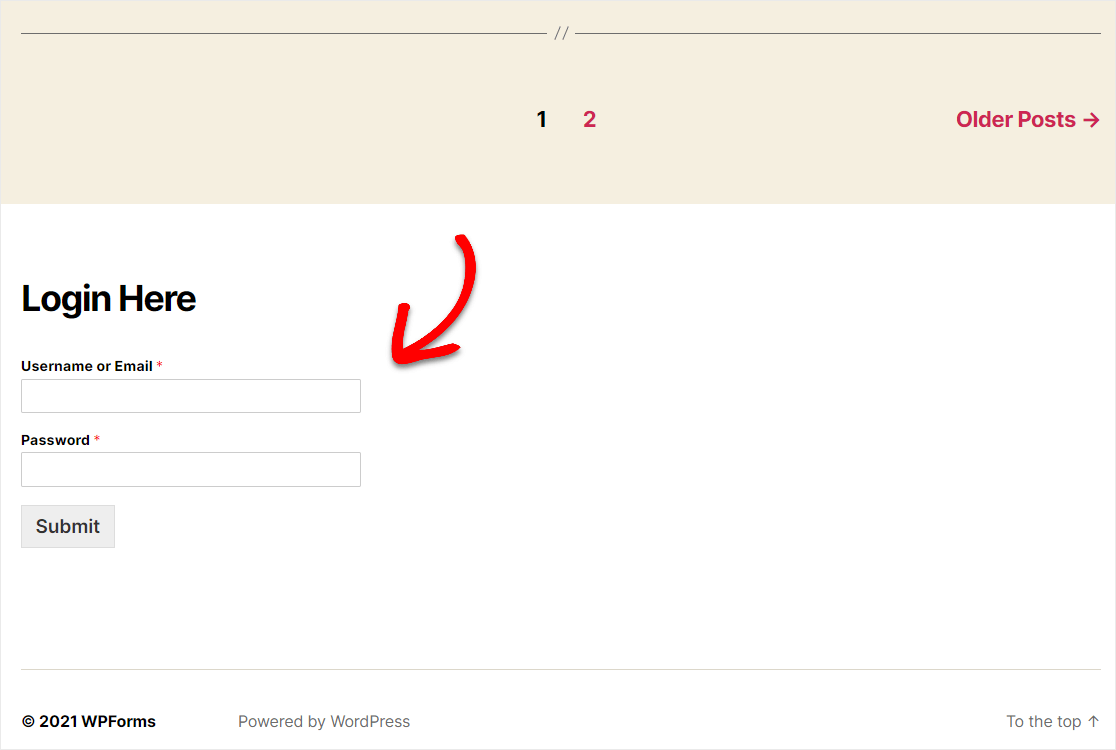 That's it! You now know exactly how to add a user login form or user registration form to any page or post on your WordPress website.
Create a WordPress Login Form Now >> 
Create a WordPress Login + Registration Form Now
Login and Registration Form templates are available with WPForms Pro. WPForms Pro is the most powerful form-building experience available for WordPress.
With WPForms Pro, not only will your visitors be able to log in and register on your site, you'll get access to a ton of helpful features like:
Easy to Use – A completely code-free way to build anything from simple to advanced website forms.
Surveys – Conduct helpful polls and surveys then generate beautiful data reports.
Form Pages – Get more people finishing your forms by creating distraction-free form pages in just a single click.
Secure Forms – Protect forms with anti-spam options like custom captcha, hCaptcha, or Google reCAPTCHA v2 or v3.
Conversational Forms – Watch conversion rates skyrocket with highly engaging and modern-looking interactive forms.
100+ Templates – Never build a form from scratch again with pre-built templates to build the most popular form types out there.
Premium Support – Access a friendly and knowledgeable team that will help guide you in the right direction if you need help with your website forms.
…and so much more.
Final Thoughts on WordPress Login Forms
We hope this tutorial helped make it super easy for you to display WordPress login and registration forms anywhere on your site. Our goal is always to try and make running your small business website simple, so you can succeed.
If you liked this article, you may also want to read these simple tricks to eliminate spam user registration.
So what are you waiting for? Get started with the most powerful WordPress forms plugin today. WPForms Pro comes with a free login form and registration form template.
If you like this article, then please follow us on Facebook and Twitter for more free WordPress tutorials.