Want to know what a Likert scale is and how to use it?
Using a Likert scale on your WordPress forms is an extremely reliable and easy way to measure attitude, visitors' opinions, or feelings toward your brand. Using different types of questions can give you some real power.
In this article, we'll explain what a Likert scale is and how to use it to calculate the perceptions and experiences of your site visitors.
Here's a table of contents to help you navigate this post:
What Is a Likert Scale?
We've all been asked on a survey how much we agree or disagree with a statement. That's a Likert scale.
It's a type of rating scale, often found on survey forms, that measures how people feel about something. It collects easy-to-understand data and it's based on work by American social psychologist Rensis Likert.
Technically speaking, a Likert scale an 'ordinal scale with an interval answer option'. 'Ordinal' means that the questions appear in a specific order from one extreme to another.
Asking yourself what is a 5 point Likert scale? Check out the example below.

An effective Likert scale usually has 3 components:
One or more questions
A series of answers, often shown as a 5-point scale or 7-point scale
A neutral midpoint.
It measures the level of agreement, so it's not always a numbered scale.
So now that you know the answer to the burning question 'what is a Likert scale', let's move on to some examples.
Likert Scale Examples
Likert scales are perfect for encouraging people to answer detailed questions about your business.
For example, you might use a Likert scale to measure how people feel about products, services, or experiences based on your survey research.
Here are a few Likert scale questions with some answer choices we could use for them.
| Question or Statement | Answer Choices |
| --- | --- |
| This company invests time in providing quality support to its customers | Strongly Disagree, Disagree, Neither Agree nor Disagree, Agree, Strongly Agree |
| Express your level of satisfaction after using our products | Highly Dissatisfied, Dissatisfied, Neutral, Satisfied, Highly Satisfied |
| I require help from specific departments when I shop | Never, Almost Never, Neutral, Almost Every Time, Every Time |
The left-hand side of the table has a series of statements. If you make a Likert scale from a form template, you'll normally use these as your questions.
The right-hand side shows the response options. You can see that we have positive sentiments and negative sentiments in the answers. And in each example, there's a neutral option in the middle so that undecided respondents don't feel forced to give an opinion.
The format of Likert scale questions helps you avoid having to ask people difficult survey questions like open-ended, fill-in-the-blank, simple yes/no, select all that apply, and ranking questions.
And, using a Likert scale survey makes your job easier. It answers specific questions. And results are easy to understand since they're arranged on a scale you've configured.
Lastly, making your Likert scale anonymous helps lower social pressure, and can help to reduce social desirability bias.
How to Set Up a Likert Scale (That Gets Results)
Setting up a Likert scale is easy with WPForms and the Surveys and Polls addon. It's the best contact form plugin on the market today and comes with tons of ways to help reduce form abandonment.
In fact, for step-by-step instructions, you can check out our tutorial on how to add a Likert scale to your WordPress forms.
And, be sure to check out our tutorial on how to create a survey form in WordPress if you haven't done so already.
So if you're new to Likert scales, and aren't sure how to go about creating the actual questionnaire part for your survey form, here's how:
Step 1: Decide What to Measure
The first thing you'll need to do when setting up a Likert scale on your survey form is to decide what exactly you want to measure. This will serve as the foundation for all your questions and the response scale.
Make sure that what you want to measure can be scaled in terms of opinion, attitude, feeling, or experience. There should be two clear extremes and room in the middle for a neutral midpoint.

Here are some Likert scale examples of things to measure like:
Agreement: Strongly agree to strongly disagree.
Frequency: Often to never.
Quality: Very good to very bad.
Likelihood: Definitely to never.
Importance: Very important to unimportant.
You can apply these measurements to your business in any way you want. From reviewing a product to getting feedback about your WordPress event registration process.
Find out how people feel about new products, customer support, pricing options, their buying decisions, your brand design, and much more in an effort to make improvements and boost both customer satisfaction and sales.
Step 2: Create Likert Scale Indicator Questions
If there are several things influencing the way your customers feel about something, that's when you know it's time to use a Likert scale on your survey forms.
In fact, Likert scales are great for learning about your business when one question, and one answer, won't cut it.
For instance, let's say you want to measure the amount of customer satisfaction people have with your company. There are many things that will influence this satisfaction, such as perceived quality, pricing, speed of service, and support.
That's why you need to develop Likert scale indicator questions to make sure you address all of these things. If you don't, you won't receive reliable responses that can be used to make your company better.
Here's an example of good Likert scale questions: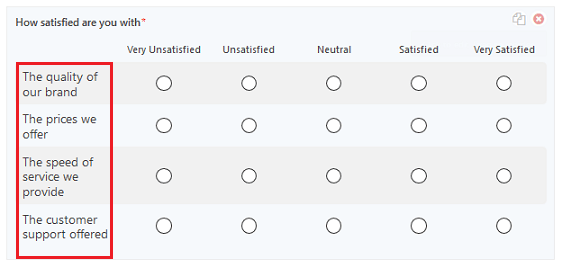 To get the best results, follow these survey question best practices:
Be specific when it comes to what you're asking
Cater to your target audience using terms they'll understand
Stay away from biased survey questions that can lead people to answer a certain way or force people to choose between extremes
Avoid asking long, complicated questions or run the risk of actually asking two questions in one, leaving the customer not knowing how to answer
The more accurate you are with your Likert scale questions, the better the results will be.
Step 3: Decide on Likert Scale Responses
So the last step in setting up a successful Likert scale is deciding which responses to make available to people taking your survey. And remember, you already decided what to measure. But now you need to decide on the actual responses.
Stay Odd — Use an odd number of responses. Ideally, you should include 5 or 7. If you go below five options, people won't be able to answer how they truly feel. If you go above seven, people will feel overwhelmed and pick random options, which hurts your chances of receiving real results.
Use Words — If you use numbers to label responses, people may confuse which end is positive and which is negative and answer incorrectly.
Use the Entire Range — Make sure your responses span the entire scale range so people on both ends of the extreme can answer truthfully.
And, if you really want to make a good impression on those taking your online surveys, consider enabling smart conditional logic on your Likert scale.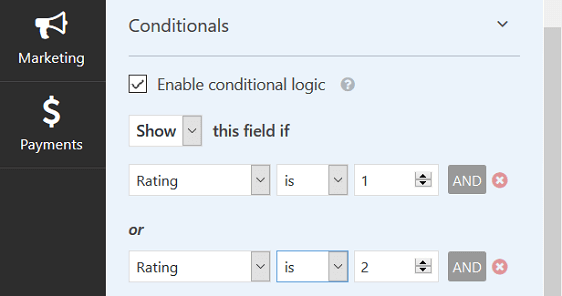 For instance, let's say someone expresses dissatisfaction with your company's customer support team. With conditional logic, you can show them an additional form field asking them to explain their answer.
This use of conditional logic on your survey form is a great way to show people you care about their responses, even if negative, and that you're making an effort to improve.
Next, Consider a Net Promoter Score Survey
And there you have it! You now know what a Likert scale is and how to use it to your advantage.
If you want even more ways to gauge customer loyalty check out our tutorial on how to create a Net Promoter Score (NPS) survey in WordPress.
So, what are you waiting for? Get started with the most powerful WordPress forms plugin today.
And don't forget, if you like this article, then please follow us on Facebook and Twitter.